Archive for category Wedding
New Years Eve saw me at Mission Beach to photograph the wedding of North Queensland Cowboy and QLD Origin player Matt Scott and his stunning bride Lauren.  It was a lavish affair with the reception held at the swanky "The Elandra" at South Mission Beach.  Roanne Johnson from the Townsville Bulletin wrote a story today about the wedding with a photo of mine and a few choice quotes.  I've put the story below.
There were also a few 'uninvited guests' at the wedding.  As I left the Elandra after photographing Lauren and her bridesmaids getting ready some of the local wildlife came out to say "G'day".  Grabbed this quick video with my iPhone.  I've never seen a cassowary with her chicks before, I think this is a pretty rare sight.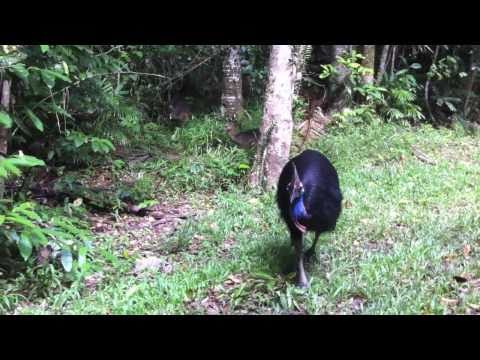 LOOKING A-list glamorous posed in front of a luxury Rolls Royce, Matt Scott and Lauren Moore officially tied the knot in front a of footy-studded guest list at the weekend.

The popular Cowboys player and his beautiful fiancee said their vows on New Year's Eve in front of 100 family and friends at St John's Evangelist Church, Silkwood.

The reception followed shortly after at the trendy Elandra Resort on Mission Beach which was fully booked for the exclusive function.

The pair, who have been a couple for more than seven years, had a bridal party of five bridesmaids and groomsmen, including Johnathan Thurston who suited up to be by Matt's side for the big day.

Cowboys chairman Laurence Lancini, coach Neil Henry and football manager Peter Parr attended, as well as former Cowboys players Ben Harris, Grant Rovelli and John Williams with their respective WAGs.

The Catholic church service included a symbolic lighting of two candles by the wedded couple to cement their union and a magical reception by a resort pool overlooking Dunk Island.

Townsville photographer Cameron Laird, who took this stunning wedding photo on Mission Beach, said the day was just wonderful for the couple.

"Lauren is beautiful and she looked absolutely stunning while Matt has a great smile they were amazing to work with," he said.

Mr Laird spent the morning photographing the couple as they got ready for the occasion and saw all of the behind-the-scenes preparation.

"She was a bit teary at the church and he seemed nervous early on but once married they were so relaxed and happy," he said.

The wild weather held off for Matt, who is originally from Ilfracombe, and Lauren, who moved to Townsville with her parents from Geelong in 1995.

"It was overcast but they didn't get rained on however the humidity was pretty bad. ."

The two love birds were unable to be contacted yesterday with both their mobile phones switched off as they enjoyed a romantic honeymoon in Bali.